This West Patient Tower project consisted of a 101,150 square foot addition to the existing Wyoming Medical Center in Casper, WY, followed by renovations of approximately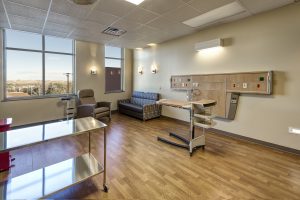 10,800 square feet of the existing facility.
Prior to commencing with the addition, there was a demolition of an existing wing of the Medical Center, as well as two adjacent buildings.
The new tower consisted of four (4) levels. Level 1 included a new kitchen, servery and dining area, as well as the main electrical and mechanical rooms. Level 2 included a new main lobby, main connection corridors, admitting, chapel, gift shop, coffee bar and shell space for future development (anticipated to be outpatient/clinical/business occupancy).
The public space opens via a two story entryway to food service functions below. Level 3 includes a new mother baby unit with ante and postpartum rooms, nursery, labor/delivery/recovery rooms (LDR's) and a C-section suite. Level 4 includes orthopedic/spine patient rooms and shelled space for eight future patient rooms. Levels 3 and 4 have support spaces appropriate for the functions on that floor, and each level has electrical rooms and dedicated IT closets. The project also includes egress corridors, stairwells and connections to the existing Medical Center. Renovations to the existing facility included expanding the pharmacy into the adjacent space vacated by the existing mother baby unit, and renovation of the existing kitchen area for a new MRI, Bi-plane and staff supports spaces.
The project was completed utilizing a third party owner's representative and a Construction Manager at Risk (CMaR). Demolition of the existing Medical Center wing commenced in March of 2012. Demolition of the adjacent buildings followed in June of 2012. Construction of the new tower commenced in August of 2012 and was completed in November of 2013. Renovations in the existing Medical Center followed completion of the new tower, and the entire project was completed by April of 2014.
"They always take the time to understand our needs, and we always find their work to be of the highest professional standard." – Matt Langley, Director of Facility Management