The University of Northern Iowa, located in Cedar Falls, is home to nearly 12,000 students studying more than 90 majors. The campus, which was founded in 1876, has continued to grow and develop for more than a century, currently occupying nearly 900 acres.
Beginning in 2009, West Plains Engineering began working with a team at UNI to develop plans for additional on-campus student housing. The $70 million project was deliver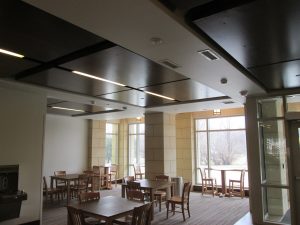 ed across two phases, both of which were certified LEED Silver for sustainability.
Phase 1
Our provided mechanical and electrical programming and schematic design services during the initial phase of the project. The master planning  included site investigation, utility infrastructure investigations, and preliminary l
ayout for approximately 850 beds of apartment style student housing. Upon completion of the master schematic design, West Plains Engineering moved into design on the first phase, consisted of 204 beds of housing within a 4-story apartment style housing facility. A central water-source heat pump utilizing a closed fluid cooler and campus steam were designed to provide heating and cooling for the facility, while fresh air is being delivered to each unit through the use of energy recovery ventilators, which also exhaust the unit toilet rooms and other spaces.
Phase 2A
Phase 2A and future phases were stepped down to three stories to be in-scale with nearby residential areas. Phase 2A accommodates approximately 246 residents, and this project consisted of new housing in two and four-person apartments with single occupancy bedrooms. Each apartment includes a living room, kitchen, single bedrooms and one bath per two residents. Six apartments, consisting of three studios units and three 2-bed apartments, were designed to be fully accessible including the kitchens, one accessible bathroom, and one accessible bedroom per apartment.